You still don't know about the Great Eastern Japan Earthquake.
~ The truth taught by Taro in Miyako City, "Learning Disaster prevention"
Eight years ago, on March 11, 2019, Taro, Miyako City, Iwate Prefecture, was hit by a great earthquake.
Participated in "Learning Disaster Prevention" at a roadside station on a cold and rainy winter day, and visited the area devastated by the tsunami.
Photo-1: Bus stop at Taro near the roadside station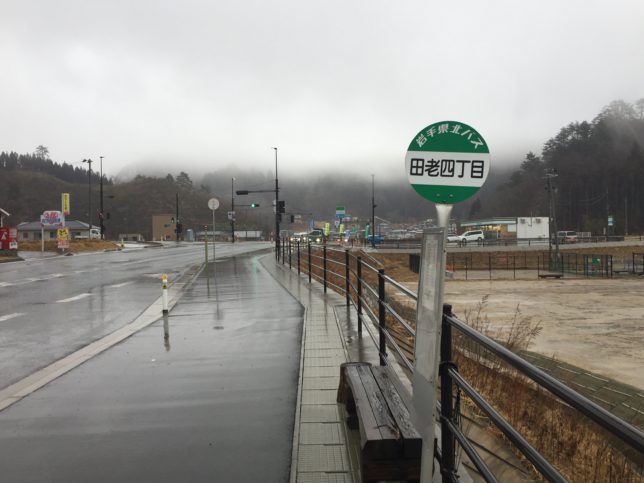 It is not easy to participate in this project, which has been held every day, starting one year after the earthquake. It takes about 5 hours to get there from Tokyo. After arriving at Morioka Station on the Tohoku Shinkansen from Tokyo Station, take the JR Yamada Line and Sanriku Railway Rias Line, on both of which, trains are infrequent. After finally arriving at Taro Station, the nearest station, traffic is sparse. Even so, 20,000 visitors visit every year to participate in the event, and reservations are still required.
Photo-2: The front of the building of the Learning of Hazard Prevention at Taro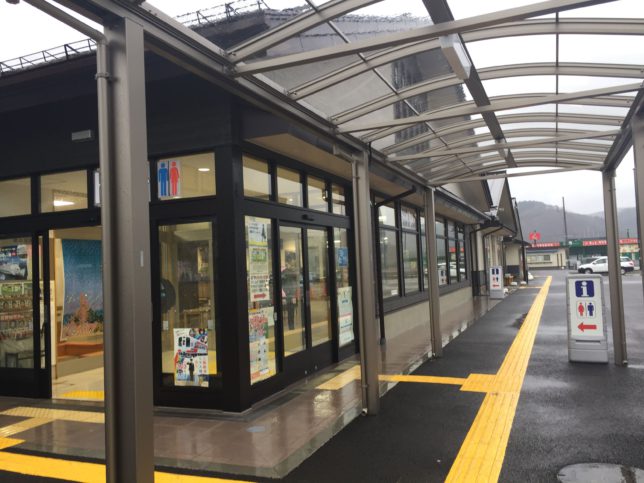 I thought that the reason it is still so popular in 2019, when time has passed since the earthquake disaster, is that it was not just an image seen on a TV and you can experience firsthand what it was like to be affected by the Great Eastern Japan Earthquake.
Photo-3: Introductory explanation by a guide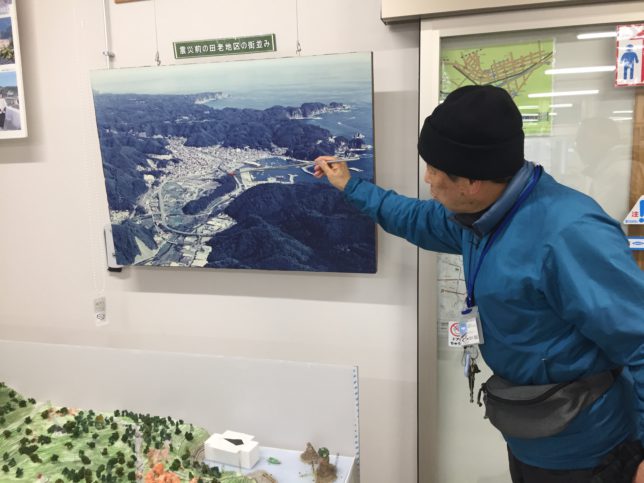 First of all, I joined Shigeo Suzuki, the guide at this roadside station. After listening to his commentary on the effects of the earthquake disaster that still remain in Taro, we began to explore the tsunami-related facilities in various parts of the area.
This is a wall over the road that shows the height of the tsunami. It shows the wave of 4 meters or more that swallowed humans very easily.
Photo-4 : One example of the tsunami height experienced in Taro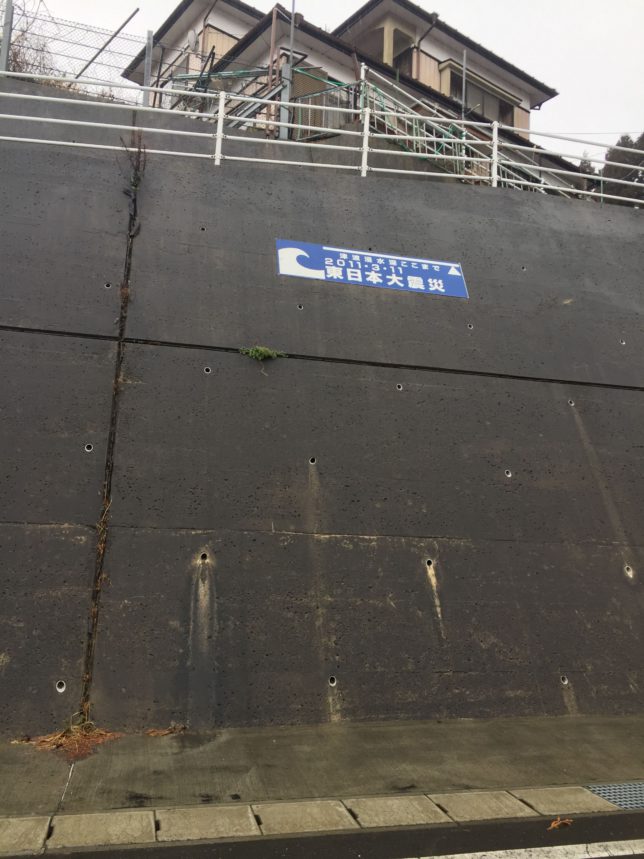 A tide-preserving forest in the town. In the past, it grew thickly and protected the town from disasters. However, the tsunami from that earthquake deceived the guardian deity. Most of the trees were washed away, and the current landscape has completely changed.
Photo-5: Trees for hazard prevention (most of the hazard prevention trees at Taro for tsunami prevention were lost.)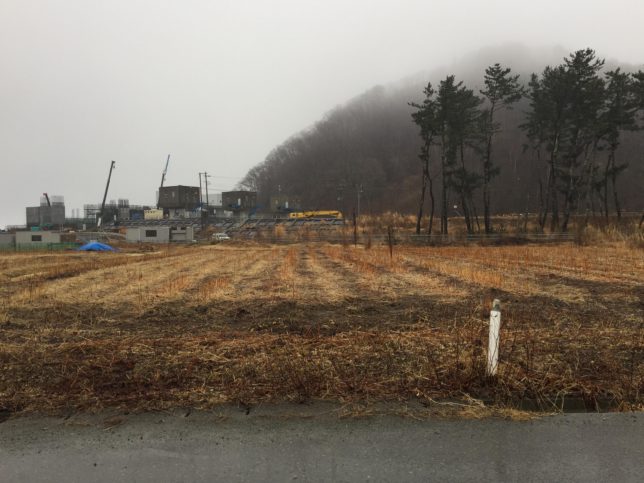 The tidal embankment that is a symbol of Taro. The tsunami swallowed the town beyond this wall. In each place, there are vacant lots where private houses used to stand, and areas are still under construction. After eight years, construction has progressed, but I was left speechless at the sight that clearly shows the situation at this time.
Photo-6: Sea wall (locally called Bouroutei), a double, 10 m high wall, crossing at the center (x shaped). The wall on the ocean side was not designed for a tsunami and was destroyed in 2011.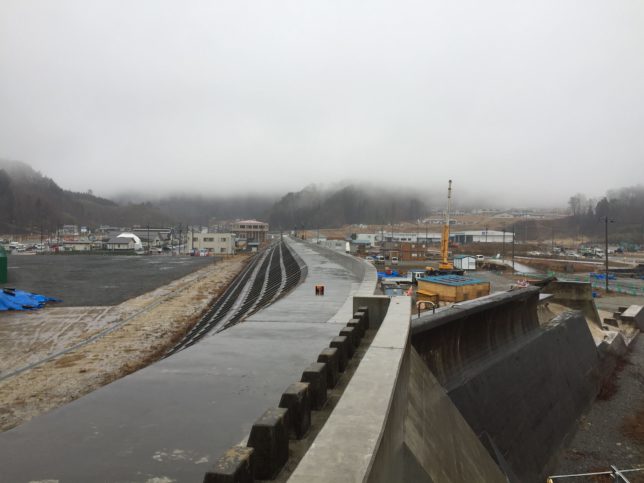 And this is the "Taro Kanko Hotel". The 1st and 2nd floors are extremely damaged, but in one room on the upper floor (6th floor) where there was no damage there is a video playing that was made at the time of the earthquake.
Photo-7: Taro Kankou (means sightseeing) Hotel (The walls of 1st and 2nd floor were destroyed by the tsunami in 2011.)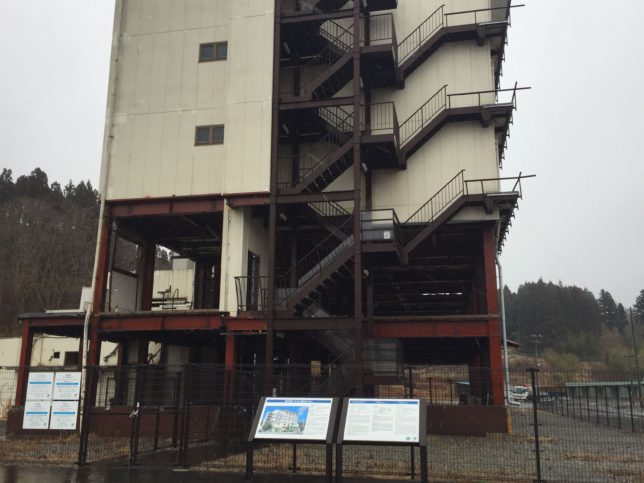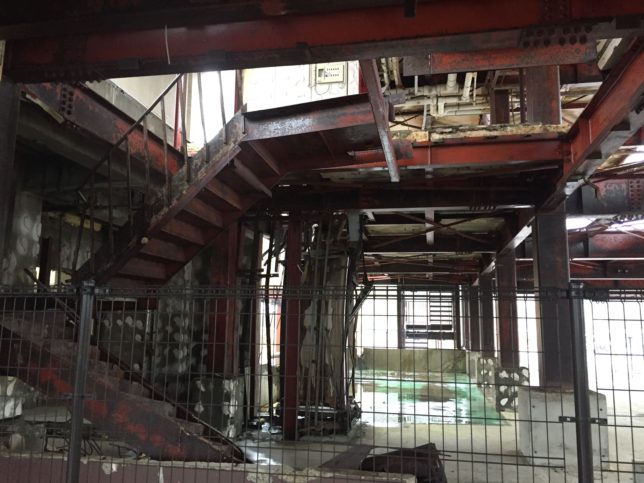 The video shown in this room is not posted on any website. When the tsunami hit the town, the hotel owner filmed the entire scene from this vantage point. From the window, you can see the 03.11 image of the elegant Taro town facing the sea and the same scene being eaten by the tsunami, and you will be shocked and left speechless. This experience can be felt only in this room alone, in the world.
Photo-8: Movie of tsunami hazard in 2011 only available at the 6th floor of the Taro Kankou Hotel.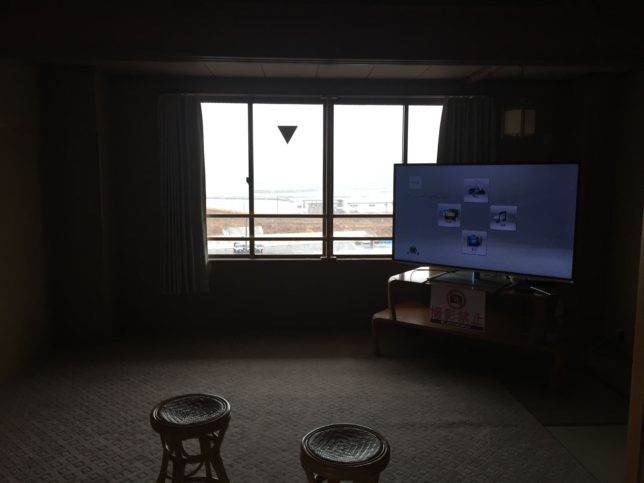 Lastly, Mr. Suzuki, who served as a guide, told me:
"This tour has been held starting one year after the earthquake. Many people are still participating, but everyone feels that the memory of the disaster has gradually faded. I would like to continue to tell you what happened at this place on the that day, while rebuilding the town of Taro. In the future, we will collaborate with the Sanriku Geopark, which includes Aomori Prefecture and Miyagi Prefecture. I will continue this activity. "
Photo-9 : Guide (Mr. Suzuki when we visited)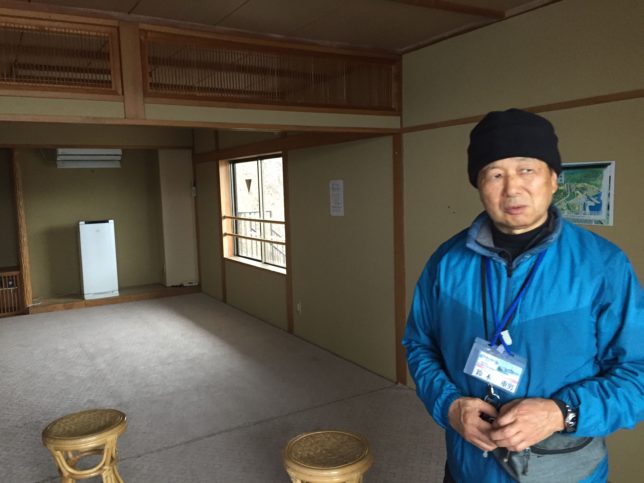 The "learning disaster prevention" fee is 4,000 yen per hour and 10,000 yen for 2 hours. For individual participation, it may seem expensive, but if you come in a group of two or more people, it will seem cheap.
There are many other attractions in the Taro area. There are marine products, such as Masaki Wakame, which has a unique texture, and Donko (*Note) with a rich texture. After directly experiencing the memory of the earthquake, please enjoy the seafood of Sanriku and pray for reconstruction as soon as possible.
*Note: A fish called Ezoiso Ainame: you can try it at the Zensukeya cafeteria next to "Learning Disaster Prevention". The "Donko-don," with deep-fried donko, is a recommended dish in Taro)
Miyako Tourism Cultural Exchange Association Learning Disaster Prevention
〒027-0307 2-1, Taro 2-chome, Miyako-shi, Iwate
Tel: 0193-77-3305 FAX: 0193-65-7501
Text and filming by "Daigoro"
Takurou Report Supplement
This report is for reference (including future collaboration) when NPO Takurou establishes Tsunami Actual Water Experience Museums in Kuroshio-cho, Kochi and Taro, Miyako-shi, Iwate. We will visit and survey existing tsunami facilities and report on them. The following is a summary of the supplements regarding the facilities reported on at this time.
1. Name: Learning Disaster Prevention
2. Location: Taro-Michinoeki (Roadside Station), Taro, Miyako, Iwate
3. Features:
There is a Tarou Kanko Hotel in the ruins of the earthquake disaster, where you can learn the dangers of tsunami disasters by watching a video of the disaster and seeing the scars of the disaster firsthand.

 

Teaching "Getting information early and evacuating promptly" as disaster prevention. To that end, it is important to know the tremendousness of tsunami disasters and to know the evacuation routes.

 

Five staff members can handle 20,000 visitors a year (peak 30,000) and reservations are essential. (They try to accommodate those without reservations as far as possible, but there is a limit.) Reservation phone number: 0193-77-3305 (mobile: 080-5739-6423)

 

There are many repeat visitors. There are many cases where they come with their families at the second time, and there are many school-related and travel agency groups. However, if there were more things that motivated people to come again, the number of visitors would increase.

 

In addition to Donko, it is a land blessed with Sanriku seafood, where you can taste sea urchin and abalone, depending on the season.
4. Access from Tokyo Station (as of March 2019):About 5 hours, at the shortest, using the Tohoku Shinkansen, JR Yamada Line and Sanriku Railway Rias Line
The JR Yamada Line has only one train every 3 to 4 hours, making connections inconvenient. Also, this alone is a difficult point because it takes just over 2 hours.
The Sanriku Railway Rias Line also has few trains and is inconvenient.
As an alternative to the JR Yamada Line, the Kenpoku Bus runs between Morioka and Miyako. There is one bus per hour during the day, and the required time is almost the same, just over 2 hours. However, it costs a little over 2000 yen.
As an alternative to the Sanriku Railway Rias Line, the Kenpoku Bus runs between Miyako and Taro. There are few buses, but it is convenient because it stops near Taro Roadside Station (Taro Nakamachi is the nearest bus stop).
Please note that public transport between Miyako and Taro is not available at night.
It is also possible to fly from Haneda to Iwate Hanamaki Airport and rent a car, but the Tohoku Shinkansen is quite quick, just 2 hours and 15 minutes between Tokyo and Morioka, and there is less need for public transport. Moreover, the Shinkansen route is recommended because it is easier.
Access by car is also possible, but it is quite difficult to get from Tokyo to Morioka because it will take more than four times as long as the Shinkansen time (2 hours 15 minutes).
5. Pricing: 4,000 yen for 1 hour and 10,000 yen for 2 hours for individuals and groups
I feel it is expensive when I go alone, but when I come with a group of 2 or more people, I feel it is cheap.
Please come with a large number of people.
[NPO Takurou]