Karakuwa Tsunami Experience Center
~ Convey Tsunami experience since 27 years before the Great Eastern Japan Tsunami~
On June 20, 2019, I visited the Karakuwa Tsunami Experience Center in Kesennuma, which has been conveying tsunami experience videos for 35 years (i.e., 27 years before the Great Eastern Japan Tsunami).
In the spring of 2017, when I told my neighbor in Kuroshio-cho, Kochi, that I wanted to construct a tsunami experience museum, she, an elderly woman from Kesennuma, said, "a Tsunami Experience Hall has been in Karakuwa since a long time before!" Then I was shocked so that they were so far ahead.
After that, I was shocked again when I visited Karakuwa and saw the amazing 4D video. However I found differences between the Tsunami Experience Hall and Tsunami Actual Water Experience Museum, which will be constructed by Takurou Association.
So, even though there was a Karakuwa Tsunami Experience Center, I considered that I still want to construct a tsunami actual water experience museum.
A Tsunami Experience Hall is located in the Karakuwa Peninsula Visitor Center. This is at the tip of the Karakuwa peninsula, far from the JR Kesennuma Station.
On the ocean side of this visitor center is the Misaki Shrine. This shrine was built in 810 A.D., and it has survived many past earthquakes and tsunamis. It is said that it is built in a position that can withstand the largest tsunamis.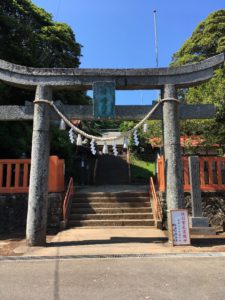 The Karakuwa Peninsula Visitor Center, a calm, 35-year-old building is located behind the Misaki Shrine when we look from the sea side,. If you go by bus or car, you can see the building in this photo in front of the parking lot.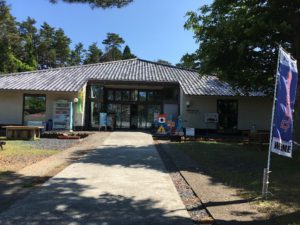 "Musubi Maru" greets you at the entrance, and "Hoyabo " greets you when you enter. If you like, you can take a commemorative photo in front of the entrance.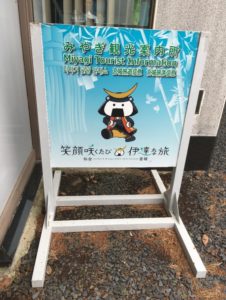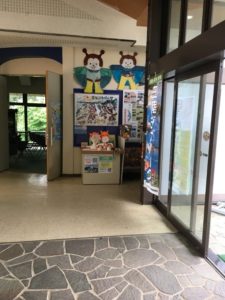 When you enter inside of the Center, you can learn many things about tsunamis, but the contents of the Visitor Center exhibition are quite depressing because of the history of the tsunami disasters. However, you should realize that while it is impossible to prevent a tsunami, it is possible to at least take sufficient measures and that you must therefore be careful and learn tsunami disaster information. What you learn here may be useful at a later date, but if you don't learn, you won't be able to save your life.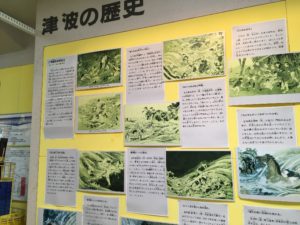 After you learn the history of tsunamis and obtain information on past tsunamis, what should you do when a tsunami actually comes to your area? How do you usually need to prepare for that? It is necessary to think about that.
However, it is very difficult to rely solely on imagination. (I have some comments to the staff , such that they should devise a way to convey the key points of tsunami countermeasures to visitors by incorporating the stories of the Tsunami Tendenko, the Kamaishi Miracle, the Okawa Elementary School Cases, etc.)
Let me introduce the main staff of the Karakuwa Visitor Center.
First person is Mr. Mitsuhiro Chiba, the director of the Center, who is standing in front of the popular Kesennuma-Karakuwa Olle in the photo on the left. The term, 'olle', means a hiking course and it originated on Jeju Island, Korea. It comes from a Korean term for a narrow alley that leads from the street to the front gate of a house. Olle seems to be popular term for hiking courses in Miyagi and Kyushu. On the Kesennuma-Karakuwa course in Miyagi, you can see a huge tsunami stone that is over 100 tons and was lifted from the seabed by the Great Eastern Japan Earthquake/Tsunami.
The second person is Mr. Yoshifumi Toba, the chairman of the Karakuwa Town Development Council, who is standing in front of his favorite GPS wave meter display, in the second photo below. This GPS wave meter is extremely useful because it can detect and transmit the offshore tsunami strike situation. Toba-san also serves as the guide for the Kesennuma-Karakuwa Olle and is not actually a member of the staff of the Tsunami Experience Hall but is coordinator at the visitor center. (I felt that this GPS wave meter might have problems, such as whether its location is optimized, and whether or not this useful information could be communicated accurately and reliably (including redundancy) to residents along the coast.)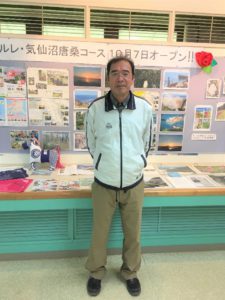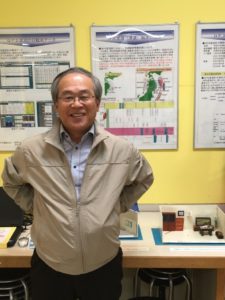 This Karakuwa Visitor Center is operated by two people a day (one male and one female). Normally, a friendly female staff member takes care of the visitor center's explanations and the experiences at the Tsunami Experience Center. Therefore, there is no worry that it is difficult to hear the story, so you can visit and learn with peace of mind.
(The female staff are very shy and wouldn't let me take their pictures, so please look forward to seeing them when you go.)
Next, I will introduce the tsunami experience hall.
You will enter another classroom-style building (adjacent to the east side of the visitor center) that can accommodate about 50 people.
This Tsunami Experience Hall is a facility where you can experience 4D tsunami images such as during the Great Eastern Japan Earthquake.
The entire front side is a large screen, and the ceiling and part of the front side of both side walls are also screens, providing a 3D-like image. In addition, the chair provides tremors equivalent to a seismic intensity of 4, and you can experience the tsunami in 4D, with splashes and wind. (Those who experienced rain in 4D in the movie of Bohemian Rhapsody will understand what I mean, but in this case, wind is also added so it is more amazing.)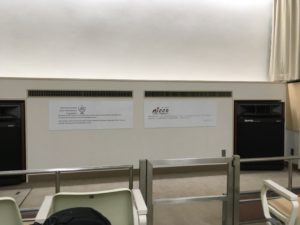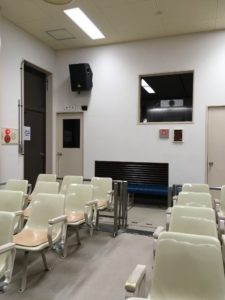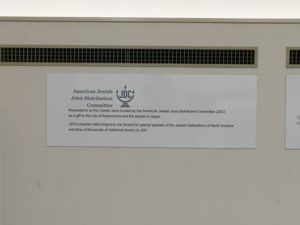 The first picture shows the lower part of the front screen, the second picture shows the rear projection equipment and a chair that can simulate the feeling of a seismic intensity 4 earthquake. This is a picture of a notice affixed to the bottom of the front screen that shows that this 4D video was donated by the American Jewish Committee.
This tsunami experience hall is devised so that the general public can experience a tsunami safely with the video and other supplementary equipment, so it is recommended that you experience it at least once. And I heard some stories that the experience of the movie here was helpful at the time of the Great Eastern Tsunami in 2011, so it was important to experience it many times.
There is another exhibition in the visitor center, so if you look at it for a while, it will be useful for your own tsunami disaster prevention.
Also, as a souvenir of the visitor center, the "Haziki Monkey" amulet from Misaki Shrine is recommended to bring you good luck.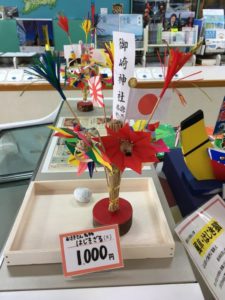 There is a walking course near Misaki Shrine, but don't expect too much from the Misaki Lighthouse.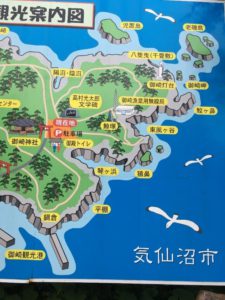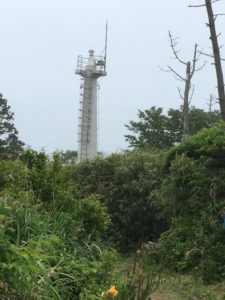 A delicious food in Karakuwa is sea urchin (seasonal). Also, nearby, oysters are farmed. It is recommended to conduct a preliminary survey each available season.
Interviewee: Eigai Hamada
Takurou Report Supplement
This Takurou Report is now being used as a reference (including future collaboration) for realizing the establishment of the Tsunami Actual Water Experience Museum in Kuroshio Town, Kochi Prefecture and Taro, Miyako City, Iwate Prefecture. It reports on a tour of a tsunami-related facility and interviews with the staff. The following is a summary of the supplements regarding the facilities reported on at this time.
1. Name: Karakuwa Tsunami Experience Hall
2. Location: 3-4 Sakihama, Karakuwacho, Kesennuma City, Miyagi Prefecture
3. Special features:
A 4D video, donated by the American Jewish Society, is a great feature allowing visitors see and experience tsunami conditions and disasters that are close to a real experience, using all five senses of the body .
*
Disaster prevention information relies on each person's feelings from the images of the Tsunami Experience Hall and the exhibits at the visitor center, and there is little interaction from the facilities.

Four staff members (two per day) handle 5,000 visitors annually (49,000 at its peak in 1993). Reservations are not required recently.
*I heard that repeat visitors are on the decline and the staff members are considering renewing their facilities. Then I think that if they can provide a program for elementary school students to learn about tsunami disasters, all elementary school students in and around the prefecture are expected to visit, which may lead to an increase in visitors.
4. Access from Tokyo Station (as of June 2019):
Tohoku Shinkansen, JR Ofunato Line, Kesennuma City Bus Misaki Line, which takes about 7 hours at the shortest, and the charge is about 15,000 yen, one way.
*
It is inconvenient because the JR Ofunato Line has only one train every two hours from Ichinoseki Station, and it may take an hour to transfer from the Shinkansen. Moreover, since it takes nearly one and a half hours, it is a bottleneck. It is necessary to take a local bus from Mikkamachi Bus Stop, which is about 15 minutes on foot from JR Kesennuma Station, and there are times when there is only one train every two hours, so it takes more time.
*
If you go to Ichinoseki Station on the Shinkansen and rent a car, it will take about 2 and a half hours for the Shinkansen and 1.5 hours for the drive.

You can fly from Haneda to Sendai Airport and use a rental car, but it takes about two and a half hours from Sendai Airport, so the Shinkansen route is recommended.

Access by car from Tokyo is also possible, but it is quite difficult to reach Ichinoseki because it will take more than three times as long as the Shinkansen time (two and a half hours).
5. Price setting:
Individual adults, \360 ; high school students, \260 ; elementary and junior high school students, \160
Pricing is cheaper than that of other facilities.
I think they should make the pricing higher and regularly renew images and exhibits.
[NPO Takurou]